Acoustic Baffles
Make a stylish design statement and create a remarkable sound experience with Audimute Designer Fabric Sound Baffles for ceilings. Covered in high-quality acoustic fabric, these baffles create the perfect ceiling soundproofing treatment while maintaining your space's style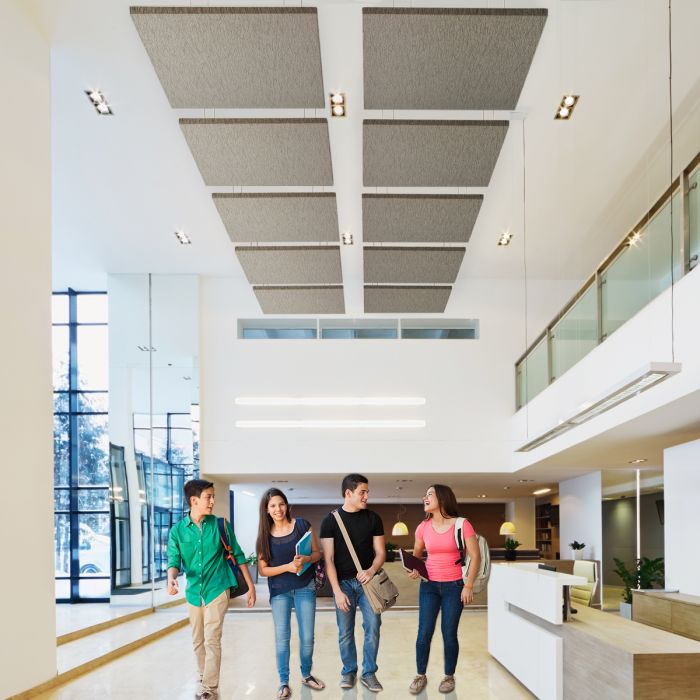 Acoustic Ceiling Clouds
Maintain your space's décor while improving the sound quality from above with Audimute Standard Acoustic Ceiling Clouds - the perfect solution for spaces with limited wall space. Choose from our most popular high-quality acoustic fabrics and create the perfect ceiling soundproofing treatment while preserving your space's style.
TessaTiles
TessaTiles combine aesthetics with acoustic performance. TessaTiles are a great echo absorber. TessaTiles are made with our eco-C-tex® eco-friendly absorption material. Create designer tile patterns with varying colors and patterns.
AcoustiColor® Acoustic Tiles
Audimute's AcoustiColor® Acoustic Tiles are a cost effective, customizable sound absorption solution. Coated in one of the many color options available via Sherwin-Williams, these Acoustic Tiles will look great in your space and will improve your sound quality.
Acoustic Shapes
Bring your wall art ideas to life by adding Acoustic Shapes to any space. They are perfect for adding an artistic touch to any space.
Acoustic Shapes provide excellent acoustic absorption. Each shape is created using eco-C-tex absorption material, with NRC ratings ranging from 0.55 – 0.95, depending on the thickness selected.
Acoustic Shapes are available in several standard color options or you can choose your own custom color. Find a color that matches your existing décor or select a color that will be the focal point in your space.
Standard Fabric Acoustic Panels
Get ready to turn down the volume and make an astounding improvement in the sound and design of your space with Audimute Acoustic Panels. Choose from a variety of colors and sizes to create the perfect high-quality sound solution for your room.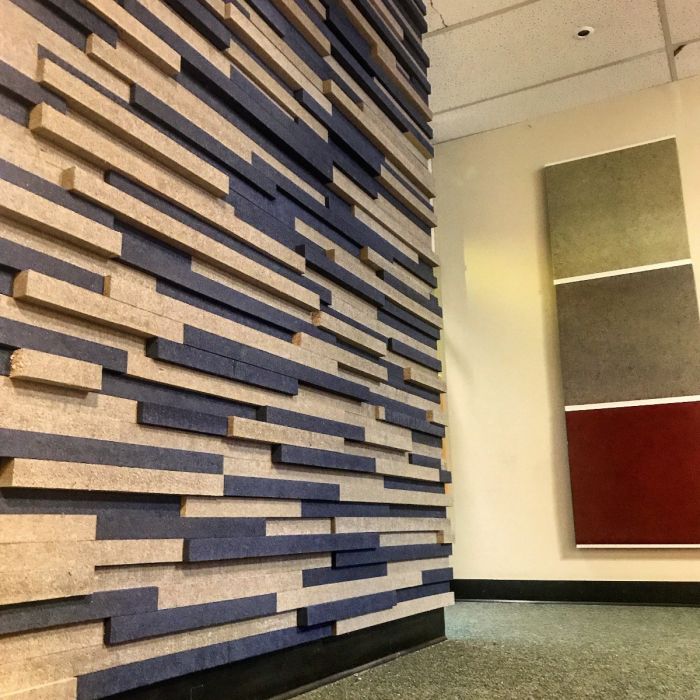 Audimute Strata™
At Audimute, we have an innovative approach in creating extraordinary sound environments. We specialize in eliminating your sound problems; however, our goal is to design solutions that reflect your personal taste and style.
Our exclusive line of Strata Accent Wall brings robust elegance into your home or office in custom shades inspired by nature. Meticulously crafted from our trademarked acoustic absorption material eco-C-tex®, this product is one-of-a-kind.
Cat Absorption Sheets
Sound Absorption Sheets are not a sound blocking product, but a sound absorption product. You can expect a noticeable improvement in the sound quality of your room due to reduced sound echoes and reverberation. Popular uses for this product include vocal booth construction, band practice spaces, home studios, and many other areas where sound absorbing materials are essential to controlling noise.
Isolé
Audimute continues its history of innovation by introducing isolé, a simple Sound Solution incorporating sound absorption and sound barrier materials into a single hanging solution. For a variety of noise problems, utilizing a combination of materials that acoustically enhance and reduce transmission of sound, isolé has been designed from high quality materials with ease of installation in mind. Audimute's isolé allows for a portable acoustic environment that addresses both sound absorption and sound isolation needs.
Pro Sound Kit
When it comes to practice and recording spaces, you want to put your best sound forward. You take care of your equipment, but what are you doing about your surroundings? High volume spaces require sound treatments in order to offer peak acoustic performance, which is why Audimute created the Pro Sound Kit.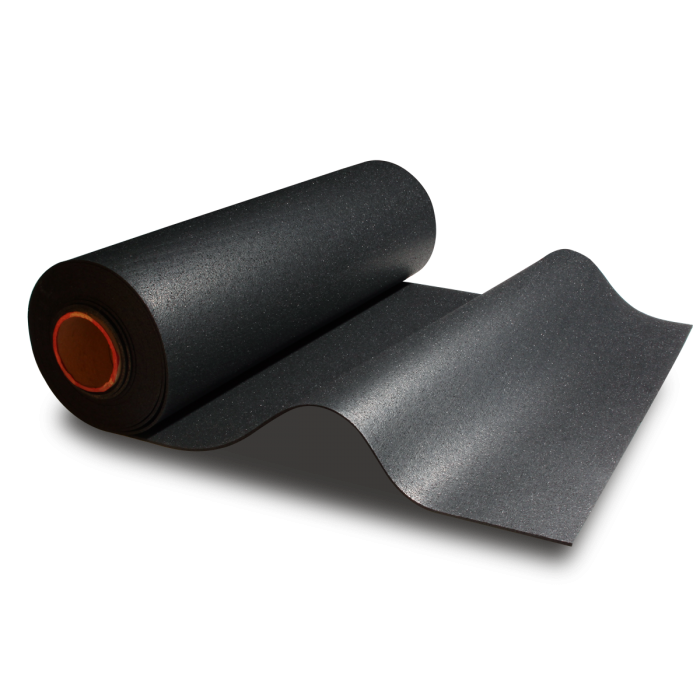 Peacemaker® Sound Barrier
Audimute 3.2 mm Peacemaker® Sound Barrier is an excellent choice for soundproofing walls, ceilings, and floors. Peacemaker® is an environmentally friendly noise control solution made from recycled tire rubber material. Peacemaker® offers excellent sound control. With an STC Rating of 19, using Peacemaker® in a structure can improve the STC rating of the structure by 4-5 points